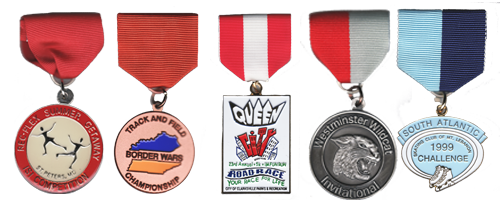 Medals can be awards for competition, or a commemorative piece, or a recognition of participation. We specialize in custom designed medals, but if your timeline or budget doesn't allow, we also have stock medals you can choose from. Medals, like pins, can be made in many different processes. Medals can be made with an extended loop from which to hang from a neck or drape ribbon or they can be made coins.
Porcelain medals - A die is created to imprint your design into the metal. The color for your design is hand-filled with a powdered glass-like mixture. The medal is fired at high temperatures to melt the powered glass. Then medals are then individually hand polished.
Die Struck Medals - A die is cut to the image of your design. These medals are usually made in the color of the chosen metal and do not have other colors on them. To make details stand out on a die struck medal, you can choose to have certain areas polished while other areas could be sandblasted or have an antique finish.
Soft Enamel Medals - A die is cut to the image of your design. The raised metal lines create indentations in between which are then hand-filled with the enamel colors. Once all the colors have been laid into the medal, it is fired to melt the soft enamel. This process is similar to a porcelain medal, but once it is fired, you can feel the ridges of the metal with the tip of your finger rather than it being completely smooth as in a porcelain medal.